✨Radical Visuals Presents: This is DMNLIES
DMNLIES comes from the #radicalfuture
Not your usual graphics artist
Radical Visuals Presents DMNLIES. This is DMNLIES, for those who have not yet come in contact with him. He lives in Athens and Radical Breaks first cooperated with him on the poster for the "Athens Get Down Fest". Since then we have cooperated in many covers and much more, yet this is not even a small proportion of the depth of his talent. So now its time for everyone to pay a little more attention to his work and make some noise for him to produce some more.
Who is DMNLIES?
DMNLIES was born in Nea Philadelpheia, Athens GR hood and he know resides in an undisclosed territory. However if you look deep into his work you will meet him in his own dimension. He is creating illustrations to lighten up the room, covers that make the music sound better and maybe he just draws to have fun. DMNLIES picks up his magic wand if he is in the mood and creates the most vibrant images. When he is not feeling like it, he produces his own beer. He is working to pay his bills, until the world knows his special graphics and illustration makes him rich, or not. All you need to know about DMNLIES is that he makes imagination come to reality and turns lies into truth.
DMNLIES ILLUSTRATIONS
Lies come true
DMNLIES is a fresh graphic designer from Athens! Make sure you get a taste!
What makes DMNLIES unique?
DMNLIES makes the image talk. If you look closely into his art you might hear it make it some noise. His art amps the fantasy. Vivid colors, groovie attitude and combination of different funky elements make the difference for DMNLIES. He tries to put a deeper concept into his illustrations. If you don't get the symbols yet, then you might just want to chill, relax and blend in with the atmosphere. DMNLIES has more to say than what you think and maybe what you see is a lie, because the truth is deeper.
Radical Breaks and DMNLIES
Since we first met with DMNLIES for the Athens Get Down Fest and some beers later on, DMNLIES also created the cover for Infinik's "Gargoyle" album. He depicted perfectly the tropic and abstract essence of the album. Vivid colors and delusional concept, where Infinik transforms into a tropical Gargoyle. He created the whole promotional campaign for the album.
After that DMNLIES created the cover for the debut single of Jme the Realest IDK . He dressed the track with a drowning dude, like Jme the Realest struggles to keep his breath going in Athens hard downtown life.
DMNLIES and his relationship with musicians
DMNLIES is a groovy dude and he likes to work with musicians. That's why he has cooperated with many bands over time producing stunning results. Either it is for an album cover or a concert poster he always makes it come live. We put together some of his covers in a special collection .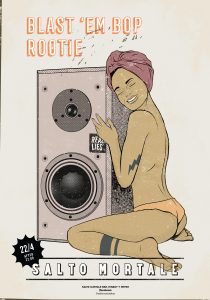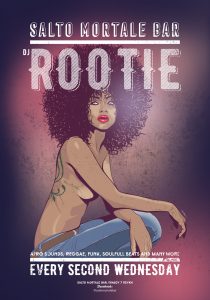 Check out DMNLIES portfolios:
Please follow and like us: