West ATH Tropics Extravaganza @ Anaireseis Festival 2020
Radical Breaks will be presenting its brand new NuFunk Extravaga "West ATH Tropics" for the Anaireseis Festival 2020, at the central square of Peristeri, West Athens, Greece. It is the first time that this performance takes place.
The "West ATH Tropics" extravaganza will be presenting a concept about the tropic side of west Athens, with DJ Set, live rap performance, breakdance show and more acts, made to make you bounce.
Starring: Infinik, VoxPopuli, AustinMod
Also performing: Ghetto Rock, Tony Graves, Waveomatics, Unchained ATH
Join us on Sunday 5th July at 10.30 pm for the most fresh show of the town!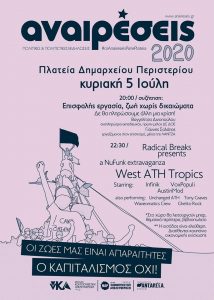 Dont forget to watch the latest video by Infinik "Wakanda" featuring Mc Yinka:
Please follow and like us: