NEW PLAYLIST: ALTERNATIVE HIP HOP GREECE
New playlist "Alternative Hip Hop Greece" now on Spotify
The #1 playlist for Alternative Hip Hop greece, brought to you by Radical Breaks!
Radical Breaks the first and nmber 1 playlist of Alternative Hip Hop in Greece on spotify! Mc Yinka, Ghetto Rock, Rationalistas, Penny, Infinik, Vdelygma and many more artists on the most fresh playlist of hip hop in Greece. This playlist is not a try to capture the trends. This playlist is a try to bring back in the spotlight the hip hop culture and the hip hop community, promote the continuous experimentation and evolution around the sound and the lyrics of hip hop.
Alternative Hip Hop in Greece has something to say, listen!
The hip hop community has grown a lot around the last years. However the current trends of hip hop in Greece do not represent the wealth of the hip hop culture in the country. Many remarkable artists do not get their fair share of the pie. We are hear to reverse that, promote culture and community and fresh hip hop music first of all. Radical Breaks compiled a bunch of tracks with a groovy vibe, original atmosphere and fresh technique to make a playlist for everyone who loves hip hop and would like to hear it grow stronger, everyone who wants to hear what the trends hide many times, everyone who wants to enjoy listening to hip hop.
The playlist contains the following tracks:
MC Yinka – Heretismos
Ghetto Rock , Zografos – Omokentroi Kykloi
To Sfalma, Frank – Eho Kathe Logo Na Min Tin Palevo
Rationalistas, Ghetto Rock, Zoro&Buzz – Respect The West
Infinik, Mc Yinka – Wakanda
Frank – Izi
Katw Apo to Geiso – Vagos Mpek. Sta Idia Dwmatia
Gojix, Penny – Vipera
Retro RC, Frank, To Sfalma – Lava
Fanis Afanis – Anamesa
Sexpyr, Low P. – Gasma
Vdelygma,Sonder – Proponisi
Zoro&Buzz – Whiskey Bar
Eni-d – O Kosmos mou Miazi
Andri J, Motive Hits – Eho Ta Blouz Mou
mi55t, Yonassis, X.P.Σ. – Oloi Theloune Kati
SOULNEK – Xamenoi Sto Diasthma
Taburo Bota – Γυναικάρες
Social Waste, DJ Magnum – Θα 'τανε δε θα 'ταν 15
Agnwstos Xeimwnas – Mia Gefsi Xeimona
Rationalistas – Den Eimaste Aderfia Me Olous
Tiny Jackal, Thanasimos, No Hard Feelings – Zempekia Ston Adi
Twinsanity, Nio.Ste. – Mess With This
The VoCults – Κάντε Θόρυβο B-Boys
Afezz – O Orismos
Grandmaster Monk, Sloth – Funk-O-Tronic
Infinik – Blanka
Negros Tou Moria – #Mpesa, Pt. 3
Majin Cost, Kareem Kalokoh – Ride or Die
Jme the Realest – IDK
LORDOS, Dj Denjah D – Χάνω το Focus
TAF LATHOS – Ksaderfe – Extended Version
Expe – Omi
VoxPopuli, Unchanged ATH – Pay, love, leave
Vikkie – BALLIN
Negros Tou Moria – PragmatiKa.- [feat. Peggy O.]
SCAN FOR THE ALTERNATIVE HIP HOP GREECE PLAYLIST:

Follow the playlist for any new updates
The playlist will keep being updated with any new tracks, or new ideas, based on maintaining the vibe and the equal presence of artists on the list. So please follow if you like it and spread the love. If you have any ideas, please send us your ideas by mail or on social media:
Ffollow our playlist: http://bit.ly/Alternative_Hip_Hop_Greece
facebook:  www.facebook.com/radicalbreakslabel
instagram:  www.instagram.com/radical_breaks
twitter:  https://twitter.com/RadicalBreaks​​
official site:  https://www.radicalbreaks.gr​​
email:  [email protected]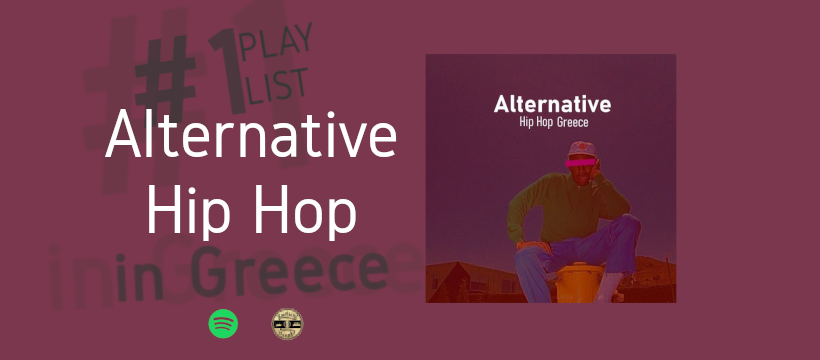 Please follow and like us: